Hywell Supply Herbs Drying Machine
Product Characteristics:
Herbs Drying Machine: The vibration motor drive has been used, with the advantages of smooth operation, easy maintenance, low noise, long life
Vibration Fluid Bed Dryer Machine flows stability, with no dead angle and blown through phenomenon.
Herbs Drying Machinery is adjustable, wide adaptation. The moving speed of the bed depth and the material in the Dryer can achieve stepless adjustment by the changes of the amplitude.
Herbs Drying Equipment makes small damage to the surface of the material, can be used for the drying of the fragile materials and will not affect the work results if the particles are irregular.
It uses full closed structure; effectively prevent the cross-contamination of the materials and air, clean operation environment.
Materials drying time is basic equality, residence time is short, bed depth is small, usually 2 ~ 5cm.
Materials have been heated evenly, full exchanged the heat. It is a process of large intensity of drying.
Main Features
1.When oil is used to heat, use automatic constant temperature control. Its temperature of operation can be adjusted form 20-160℃ .
2. Compared to other dryer, its heat efficiency will be 2 times higher.The heat is indirect. So the raw material can not be polluted. It is in conformity with the requirement of GMP. It is easy in washing and maintenance.
3. Machine materials : AISISUS304 , AISISUS316L, and other material .
4. The feeding system for this machine can be by manual or screw feeder .
5. For the electrical component , we mainly use international brand such as ABB ,Siemens or Schneider.
6. Smooth running, reliable performance, easy operation.
7. Highly polished inner and outer surfaces of the machine, no dead comer, easy to clear, no cross contamination. Confining to the requirement of GMP.
8. Control system has more choices, such as push button , HMI+PLC and so on.
Work Principle:
The material has been feed into the machine, under the dual function of the vibration and air flow, the material move along the fluidized bed as throwing forward continuously. Hot air upward through the fluidized bed and wet materials from the heat after the exchange, after the cyclone dust emissions from dry materials from discharging from the mouth.
Product Description:
fluid bed dryer is a new technology developed on the basis of static fluidized bed. Mechanical vibration is added on the fluidized bed. Wet material particles enter the air stream and form a fluidized bed. The material is ejected due to exciting force. Vibrations of an air distributing plate incite the fluidization of material particles and the movement of material in the fluidized bed. The fluidized material contacts the hot air and at the same time carries on heat and mass transfer. The dried product is discharged through the discharge port.
Application Range:
It is can be used for drying or cooling process, for the uneasily fluidized products because of large particles or irregular particles, or that require a lower fluidization rate in order to maintain the integrity of the particles and the drying of easy-to-adhesive, temperature-sensitive products and the surface water removal of the crystal water-containing materials.
Main technical parameter:
Hywell ensures you to the best quality services at all times. Shall you need any further information, please do not hesitate to contact undersigned.
The Main technical datum is for reference. We also produce and design product as per customers' requirement.
| | | | | | |
| --- | --- | --- | --- | --- | --- |
| model of drying machinery | area of fluidized(M²) | temperature of inlet air(ºC) | temperature of outlet air(ºC) | capacity to vap[or moisture(kg/h) | vibration power |
| ZLG3*0.30 | 0.9 | 70-180 | 40-80 | 10-40 | 0.8x2 |
| ZLG4.5*0.30 | 1.35 | 70-180 | 40-80 | 20-50 | 0.8x2 |
| ZLG4.5*0.45 | 2.025 | 70-180 | 40-80 | 30-70 | 1.1x2 |
| ZLG4.5*0.60 | 2.7 | 70-180 | 40-80 | 50-100 | 1.1x2 |
| ZLG6*0.45 | 2.7 | 70-180 | 40-80 | 50-100 | 1.5x2 |
| ZLG6*0.60 | 3.6 | 70-180 | 40-80 | 80-130 | 1.5x2 |
| ZLG6*0.75 | 4.5 | 70-180 | 40-80 | 110-160 | 2.2x2 |
| ZLG6*0.9 | 5.4 | 70-180 | 40-80 | 130-180 | 2.2x2 |
| ZLG7.5*0.60 | 4.5 | 70-180 | 40-80 | 110-190 | 2.2x2 |
| ZLG9X1.2 | 10.8 | 70-180 | 40-80 | 230-400 | 4X2 |
.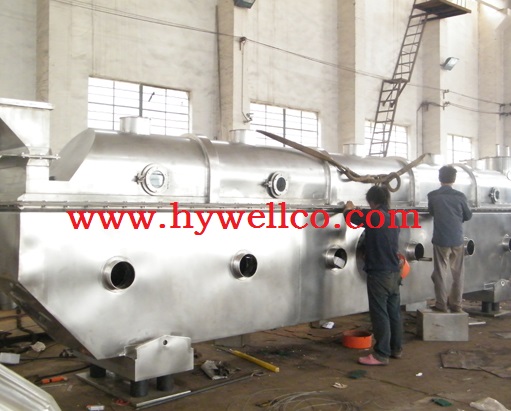 Looking for ideal Herbs Drying Machine Manufacturer & supplier ? We have a wide selection at great prices to help you get creative. All the Herbs Drying Machinery are quality guaranteed. We are China Origin Factory of Herbs Drying Equipment. If you have any question, please feel free to contact us.
Product Categories : Drying Machine > Horizontal Fluid Bed Drying Machine